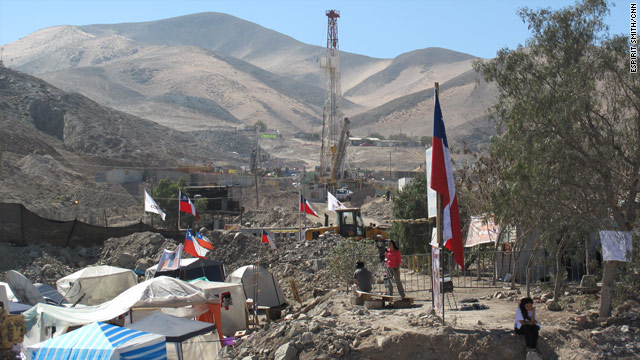 It is impossible to imagine what life must be like for the 33 miners trapped deep underground in Chile. The bowels of the earth, and the depths of the sea, are dark, unbidden places  that arouse something in us which is the antipathy of the comfortable life we know.  If you are claustrophobic maybe you ought to skip this video that was released on August 27th. The Chilean mine accident took place on August 5th 2010, 12.00 (time unknown) Copiapo.
Mining is a Saturnian pursuit, fraught with danger and this chart bears all the hallmarks of it. Mars is about fight, flight and adrenaline and in this horoscope Mars has just swept past all three planets that have been defining  our astrological climate for the last months: Saturn opposite Uranus (Jupiter) both squaring Pluto. This t-square in cardinal signs, falling, as it does over the axis of the world, has had us all sitting on the edge of our seats. The climate went haywire, oil seeped and miners were buried.
The story initially got masses of media coverage, pyschologists in particular had a hay-day. I mean just how does a group of men survive in such extremely intimate conditions? Thank goodness the Mars square is separating and not applying to Pluto – methinks. And in peace loving Libra.
But Joe Public has a short attention span – and gradually the story has slipped into the background – until yesterday that is – when news came out that the miners stand a good chance of being rescued earlier than expected, in early November.
Interesting to consider their plight in the light of this Saturn/Pluto square. When these guys finally once again see the light of day, they will have broken all known records for surviving in the most extremely harrowing conditions underground.